Are you desperately trying to get your HBO Max account back after being hacked?
I'm very sorry to hear that. It would seem like every time a new safety feature is invented, two methods to bypass it are created.
I understand how concerning it must be to know some stranger has had access to your personal and banking information. But now's not the time to focus on that. You need to regain access to your account as soon as possible and implement improved safety features that will prevent this from happening again.
And we're here to help you.
Below, you will find a list including 5 steps you can follow to both recover your account, and strengthen its level of security.
These are:
Check HBO Max's servers
Change your password
Contact customer support
Cancel your subscription
Recover your password
Read on to make your HBO Max account bulletproof!
#1 Check HBO Max's Servers
You're probably wondering why I included this on the list, and the answer is simple.
Before taking any other preventive action or canceling your account, you need to make sure the login issues you're encountering are not related to technical difficulties on the platform's end.
You see, a lot of people think they've been hacked when they can't log into their accounts. And while this might sometimes be true, on some other occasions, HBO Max's servers are simply having trouble.
As you probably know, these are used to store data and allow millions of HBO Max subscribers to seamlessly stream their favorite content simultaneously. Without them, the platform would be unstable and inaccessible.
And since we want to leave no stone unturned, we definitely want to check out how they're doing.
Solution: A decade ago, it would have been difficult, if not impossible to achieve this. But luckily, these days this information is just one Google search away.
Here's what you have to do:
Open Google, and type "Is HBO Max Down?", then hit Enter to search your query
Locate "Downdetector" on the search results, and click on it (or simply click on this link: https://downdetector.com/status/hbo-max)
Once you've entered the webpage, you'll see a bunch of data, and a large graph
The higher the spikes, the more likely you are to be experiencing issues
I'd be remiss not to mention that you could have still been hacked, even if the servers are down, as these situations are not mutually exclusive. We're simply trying to cover all bases here, don't rule anything out just yet.
#2 Change Your Password
You want to make sure that when you get your account back, you can keep it safe, right?
Well, the best way to do this is by changing your password and making sure to use a complex one.
This will only work if you can still log into your account, though.
As you know, most social media and streaming companies recommend using special symbols, numbers, and a combination of both uppercase and lowercase letters when creating your password.
And there's a very good reason for that.
The more diverse your password is, the harder it will be for someone to hack it and gain access to your account.
Solution: Avoid using birthdays, names, or even titles of your favorite shows, as this is information that can easily be accessed by a hacker.
Your best bet will always be to use a random combination of letters and symbols that make no sense, like "5$35*L!210uW/2!", for example, as these are the toughest passwords to crack.
There are some resources out there that can help you generate these kinds of passwords, but I'd strongly advise coming up with your own to leave no trace of its creation online.
#3 Contact Customer Support
The next thing you want to try is contacting customer support.
HBO Max's support team is your best shot at recovering your hacked account, as they'll likely have reports of the event and can guide you through the entire recovery process.
You can reach them either through your phone, email or by direct message on their platform.
I'd suggest giving them a call, as it will be the fastest way to get the problem solved. Just be ready to spend some time on hold.
Solution: Once you actually get in touch with a customer support agent, you can explain to them that you're having problems logging in, or that you see some suspicious activity on your account.
Try to be very specific and leave out no details.
They will likely ask you to answer a couple of security questions including personal and banking information, so make sure to keep all your account details handy. Should everything proceed normally, they should be able to help you regain access shortly.
#4 Cancel Your Subscription
This should only be done as a last resort, as it's a powerful bargaining chip to get the customer support's team attention a little faster.
If you haven't received the answer you were looking for, or are simply too concerned that someone might hack into your account again, you can go ahead and request for it to be terminated.
It's really important that you request this via email, as there's a button for that in the platform, but if you go that way, you won't get anyone to help you.
Using direct communication will prompt the customer support team to try and help resolve the issue faster in order to avoid losing a subscriber.
Don't you love a nice workaround? I know I do!
#5 Recover Your Password
As the last possible fix, I want us to try and recover your password.
If you were, in fact, hacked, there is a very good chance that whoever did it changed your password, but not the email associated with the account. If this is the case, you can use the "forgot my password" feature to your advantage.
Solution: Here's what you have to do:
On your computer:
Go to HBO Max and click on "Sign In" in the upper-right corner of your screen
Click on "Forgot password?"
Enter the email address associated with your account, and then click on "Submit"
Look out for an email from HBO Max and follow the instructions provided on it to reset your password. Make sure to check your spam folder as well
For IOS devices:
Open the HBO Max app
Tap on your profile in the lower-right corner of your screen
Select "Forgot password?"
Enter the email associated with your account and tap on "Submit"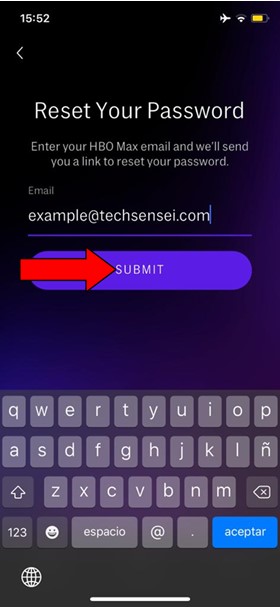 Check your email and spam folder for HBO Max's password reset link and follow the steps indicated
Resetting your password successfully will not only let you regain your account but also render whoever hacked you unable to use it ever again.
Remember to make the new password as complex as possible!
Best Practices for Security (Recap)
There are some additional best practices you can use to your advantage to maximize your account's security. Some of them are:
Avoid logging into your account in public computers
Change your password every couple of months
Use a 2FA (Two-Factor-Authentication) method when it becomes available for the platform
Conclusion
Having a streaming account hacked is not only inconvenient but also very concerning, as a lot of your personal and banking information is in there.
And to make matters worse, a lot of times getting help from customer support is extremely hard.
Luckily, as I hope you've learned in this piece, there are several things you can try to gain your account back and implement security measures that will prevent any future hacking attempts.
More often than not, making sure to have a complex password you change every couple of months, and being on the lookout for any suspicious activity, will do the trick.
Thank you for sticking with me all the way to the end. If you found this article helpful, you'll be glad to know that we upload new content weekly. Stay tuned and become a Tech Detective yourself!
I wish you all the best.