Are you stuck trying to figure out why Disney Plus is running slow on your PS5?
You're not alone! You would not believe how many people encounter this inconvenience daily, and given how many factors can contribute to it, I'm honestly not surprised.
I can only imagine how frustrating this must be for you. Especially considering that you're paying for a monthly subscription that you're simply not being able to enjoy.
But don't worry, you've come to the right place. I'm here to help you get everything back on track.
Below, you'll find a list of 8 possible causes that could be behind this situation and some ways you can fix them. I'm sure one of them will do the trick.
These are:
Update your PS5
Update Disney Plus
Reset your PS5
Try a different show
Check your internet connection
Check Disney Plus servers' status
Use an Ethernet cable
Disable your VPN
Keep reading to leave this nightmare in the rearview mirror!
#1 Update Your PS5
Let's start off with something simple.
Believe it or not, keeping your PS5 outdated is a bigger deal than you might think. I mean, sure, it's not a federal crime, but it can be the source of several technical difficulties as time passes.
You see, with every new release, app developers try to keep as much backward compatibility as they can, but it's not always possible. Using an older version of your console's software with a fully updated platform could explain why Disney Plus is running slow on your PS5.
Now, normally automatic updating should make this no concern of yours. However, sometimes network interruptions, background process crashes or even strict device privacy settings can get in the way and leave the pending downloads stuck in Limbo.
In that case, you'll have to go in and take care of things manually.
Solution: I know this may sound challenging, but it's all really simple. Here are two ways you can go about it:
Via the main menu:
Go to "Settings">" System Software Update"
Let your console look for newer software
If any is found, select "Next"
Wait for the update to be finished
Via external USB:
Go to the PlayStation website to find the update file and download it
Save the file to your USB and remove it from your computer afterward
Plug the USB into your console and start it in "Safe Mode" (turn the console off, and then press the power button for 7 seconds, or until you hear two beeps)
Select "Update System Software" in the Safe Mode menu
Select "Update from USB Storage Sevice", and then hit "OK"
#2 Update Disney Plus
As you can imagine, keeping your Disney Plus app fully updated is just as important as keeping your PS5 in the same condition.
Not unlike with the console, this should be done automatically by your system whenever there is a newer version available. However, if it's not, you'll have to interfere once more.
Solution:
Launch the PS Store
Type "Disney Plus" on the search bar
Look for the platform's app and select it as if you were about to download it
If there's a newer version of the platform available, this process should take care of everything.
#3 Reset Your PS5
If nothing has worked so far, we might need to start being a little more aggressive. We should start discussing factory resetting your console.
Doing this will get rid of any bugs or corrupted files that might be causing Disney Plus from running slow on your PS5, and hopefully, get everything back to normal.
… but there's always a catch, isn't there?
While this process will almost always get things back to normal, it will also delete all your saved data, game progress, user preferences, and downloaded apps, reverting your console to its factory state.
Due diligence is advised.
Solution: If you deem it necessary, here's how you can factory reset your PS5:
Make sure all your data and game progress is backed up
Go to "Settings" in the upper right corner of your screen and select the gear icon
Select "System" in the settings menu
From the "System Software" dropdown menu, go to "Reset Options" and select it
Select "Reset Your Console"
You'll be prompted with a warning that reads "All users and data will be deleted. Console sharing and offline play will be disabled for all users on this PS5".
Wait until the resetting process is complete
Go to the PS Store and redownload Disney Plus
#4 Try a Different Show
Sometimes the simplest answer is the right one.
You may or may not know this, but every piece of content within Disney Plus has its own space and ID on its servers. This is why sometimes you might be having trouble watching one title but be able to seamlessly enjoy another.
By keeping its content organized this way, the platform can prevent an isolated issue from becoming a general failure.
Sometimes, it can be easy to be tricked into thinking something's wrong with the platform when we see our favorite shows fail to stream, but it's always a good idea to do some double-checking.
Solution: Try switching back and forth between different titles and see what happens.
If a corrupted file or a bug is to blame for the situation, this normally gets rid of either and should get the title you were originally trying to watch back to normal.
However, if there's something wrong with the platform's servers, all you can do is wait.
#5 Check Your Internet Connection
I'm sure you're already aware that, although Internet service drops have decreased dramatically over the last few years, they still happen now and then.
The problem is that sometimes diagnosing a bad connection can be trickier than you'd expect, since, even when you have one, you won't always be completely cut off from the internet.
In some cases, you might still be able to do some light browsing or chatting while also having Disney Plus running slow on your PS5.
How come? Because every activity has different requirements.
Texting your friends and family about your day will never be as demanding on your network as streaming your favorite shows or movies.
As a general rule, Disney Plus needs a minimum Internet speed of 5 Mbps for Full HD resolution (1080p), and a whopping 25 Mbps for 4K (2160p).
Solution: I normally recommend having an internet plan that's at least 5-6 times faster than your favorite platform's minimum requirements. For example, if you want to stream Disney Plus in 4K, you should have a plan that offers at least 150 Mbps.
If you live alone, you might be able to get away with something slightly slower. But if you share your home network with several people, you may even need to go a little higher.
Assuming that your current plan is already fast enough, I'd advise giving your provider a call and asking if they're having coverage issues in your area. If they tell you everything is fine on their end, you'll likely have to reset your modem and see if that works.
Here's how you can do that:
Without unplugging the modem, turn it around, so you can see the back of the unit
Locate the reset button (more often than not, it's not a button, but a small hole with a "Reset" label on it)
Use a paper clip or a thin toothpick to press down on the actual button inside this hole, and hold it down until all the lights at the front of the unit turn on, and then turn off
For a brief moment, all lights on the modem will be off, that's your cue to stop holding down the reset button
Wait about 5 minutes or so and try streaming Disney Plus on your PS5. If your connection was at fault, you should now be able to enjoy your favorite titles.
#6 Check Disney Plus Servers' Status
Moving on, let's make sure that the platform's servers are not failing.
As you probably already know, these are responsible for storing important information and providing millions of Disney Plus subscribers with the service they expect for the price they pay every month.
Given how crucial they are to their everyday operations, streaming companies have put a lot of elbow grease into designing them to be as resistant as possible.
And while I'm not telling you that you should expect server downtime every 5 minutes, I'd be lying if I said that they've managed to make them failproof.
In fact, things that seem unimportant, such as a coding bug, a bad hard drive, or even minor hacking can greatly impact the platform's performance and compromise its features.
The telltale signs of these events are slow loading times, login difficulties, subscription verification issues, out-of-sync audio/video/subtitles, and… you guessed it, slow performance on your PS5 and other streaming systems.
Solution: To either confirm or rule this out as a potential culprit, we need to check the real-time status of the platform's servers.
Here's how you can do it in a matter of seconds:
Open Google, and type "Is Disney Plus Down?", then hit Enter to search your query
Once you've entered the webpage, you'll see a bunch of data, and a large graph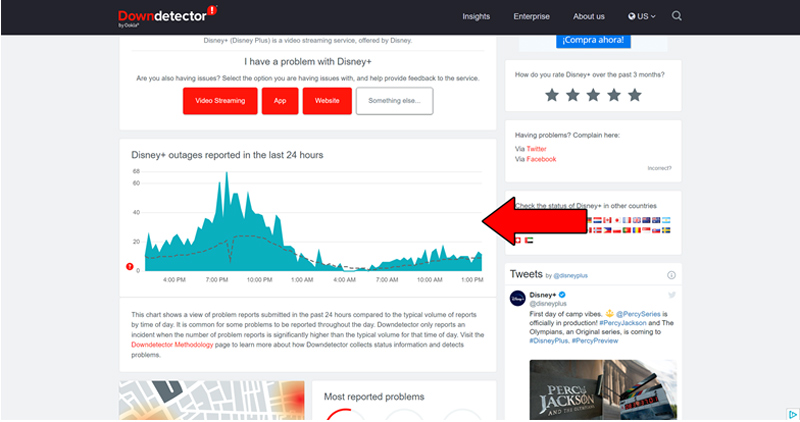 The taller the spikes, the more likely you are to be experiencing issues
Sadly, if the platform's servers are, in fact, down, there's little to nothing you can do.
That being said, I wouldn't lose any sleep over it. The IT department at Disney Plus is highly capable, and to my knowledge, there's never been an instance where the service wasn't fully restored within 24 hours.
#7 Use an Ethernet Cable
Next, I want us to try and change your method of connection.
Granted, being able to wirelessly connect to the internet with your PS5 is a great advantage. It not only saves you time but also eliminates the need for several cables that can be annoying and look terrible.
The problem with this is that sometimes if your modem is too far away from the console or there are several walls between both devices, you may get a weak or unstable signal.
Moreover, in order to fully take advantage of your wireless connection, your console's adapter needs to be working flawlessly. Any minor malfunction can get in the way of this and make it impossible for you to get a good Wi-Fi signal on your PS5.
In any of these cases, the best thing you can do is use an Ethernet cable. You probably know it as the yellow cable your modem came with when it was first installed.
Chances are that it might still be attached to your device.
Solution:
Connect one end of the Ethernet cable to the back of your modem (you should see a couple of ports labeled "LAN" or "Ethernet"), and the other to your PS5's LAN port at the back of the unit.
On your PS5's Home screen, go to "Settings"
You should be able to see a list of all the networks you're connected to displayed on your screen. Look for "Wired LAN" or something similar.
Look for a "Connected" label next to it
If you want, you can also run a connection test on your console.
#8 Disable Your VPN
Lastly, let's talk about your VPN.
If you have no idea what this is, you're probably in the clear, so relax! But if like me, you love being able to access all sorts of international content, this definitely interests you.
I think we can both agree on the fact that these virtual private networks are great at securing our browsing and opening up a world of opportunities.
… which makes it a real shame that streaming companies hate them.
In fact, several of them, like Disney Plus, HBO Max, Amazon Prime Video, Netflix, and many more, have been outspoken about their dislike for these, even getting to the point of blocking the subscribers who use them.
And while I don't applaud their actions, I can understand them.
You see, a lot of the content on these platforms is only licensed to be streamed in certain countries and regions. Since VPNs allow users from outside these areas of the world to access said content, streaming companies have to either take action or face dire legal consequences.
If you absolutely must use a VPN while streaming, I'd advise getting a premium subscription from a provider that offers obfuscated servers.
These will make it much harder for Disney Plus to detect your VPN traffic, thus decreasing your chances of being blocked or targeted with slow performance on your account.
Solution: The best way to tell whether your current VPN provider is to blame for this situation is by disabling it and streaming without it for a couple of days.
If Disney Plus is no longer running slow on your PS5, there's your answer.
Conclusion
Having Disney Plus running slow on your PS5 can be a modern-day nightmare. Especially considering that neither the subscription nor the gaming console are awfully cheap, so the least you'd expect for your money is a decent streaming experience.
What a disaster!
Luckily, as I hope you've learned in this piece, addressing most of the causes behind this inconvenience is fairly simple and rarely ever time-consuming. In most cases, simple actions, like using a wired internet connection on your console, and choosing the right VPN provider, should do the trick.
Thank you so much for sticking with me all the way to the end. If you found this article helpful, you'll be glad to know that we upload new content weekly. Make sure to check out all our other incredible resources below and become a Tech Detective yourself!
Best of luck to you.