Are you stuck trying to figure out why your Firestick is unpairing or forgetting your TV?
Welcome to the club! Believe it or not, this issue affects thousands of people every day, leaving them nothing short of confused.
I know it can be super annoying not to be able to enjoy a streaming device you already paid good money for.
But don't worry, you've come to the right place for answers. Below, you'll find several fixes you can try to solve this problem for good.
The 6 main fixes that can help you pair your Firestick to your TV are trying a different HDMI port, checking your power sources, or restarting/updating your device. If that doesn't work, you can also try updating your TV or resetting your Firestick.
Keep reading to regain control of your streaming experience!
#1 Try a Different HDMI Port
First, I want us to make sure your HDMI ports are doing ok.
As you know, this is where your plug in your Firestick to play your content on your TV and control it. Just like there are different versions of this streaming device, there are different HDMI ports.
Believe it or not, even today, several TVs have ports with more advanced capabilities than others.
Now, this is not to say that plugging your Firestick into the wrong one will make it fail. Most of the time, you won't have any issues, but in some cases, if the input is damaged, it could explain why your Firestick is unpairing or forgetting your TV.
Although HDMI inputs don't usually have to move around a lot, some special conditions or even everyday wear and tear can affect how they work. When this happens, you can expect to have display difficulties, random flickering on your streaming services, and being unable to stay paired to your TV.
Solution: The best way to tell if your current HDMI port is damaged is by plugging your Firestick into a different one. Most TVs have 4 HDMI ports, so you still have another 3 that should be ok.
If by using the new HDMI port you stop having pairing issues, there's your answer. Try to stay away from the suspicious HDMI port as much as possible.
#2 Check Your Power Sources
Moving on, let's check your power sources.
When you first bought your Firestick, you may remember that it came with its own cable and power adapter (a little cube like the one you use for your phone). Not unlike other electronic parts, these can become damaged over time and stop working as you want them to.
In most cases, it's the cable that goes first. But it's not unheard of to have the power cube fail as well.
As you can imagine, a bad power supply means bad performance. It's like trying to use a blender with only half the power it needs. You might be able to crush some tomatoes, but you won't be able to make a paste.
Depending on how bad the situation is, you might not even be getting an image on your TV. But if the power sources are only partially damaged, it could explain why your Firestick is unpairing or forgetting your TV. In this scenario, it's very important that you stop using the device, as it could short-circuit and end up being useless.
Solution: What I love about Amazon's Firestick is that both the power cable and the cube are very easy to replace. The device uses standard USB connections, so I'm sure you have several replacements at home that you can use for testing.
First, try using a different cable with the original cube and see what happens. If you're still having issues, keep the new cable and plug it into a new cube. Assuming that this is the source of the problem you should no longer be having trouble.
#3 Restart Your Firestick
Sometimes the simplest answer is the right one.
There's a very good chance that all you need to do to stop your Firestick from unpairing or forgetting your TV is restart it.
Whenever we use our favorite apps, there are thousands of background processes running at the same time. Normally, they work as you'd expect and that's the end of it. But sometimes, one or more can crash and cause your Firestick to start acting weird.
This happens either due to a coding bug or a corrupted file and can be easily fixed by restarting the device. This process allows your Firestick to get rid of any troublemakers and start most of its data from scratch.
And the best part is that this fix works for about 90% of technical difficulties out there. Don't be afraid to try it out!
Solution: Here's how you can restart your Firestick:
Press the "Home" button on your controller
Navigate to the gear icon to open the device's settings
On the set of options that appear, select "My Fire TV"
On the new window, select "Restart"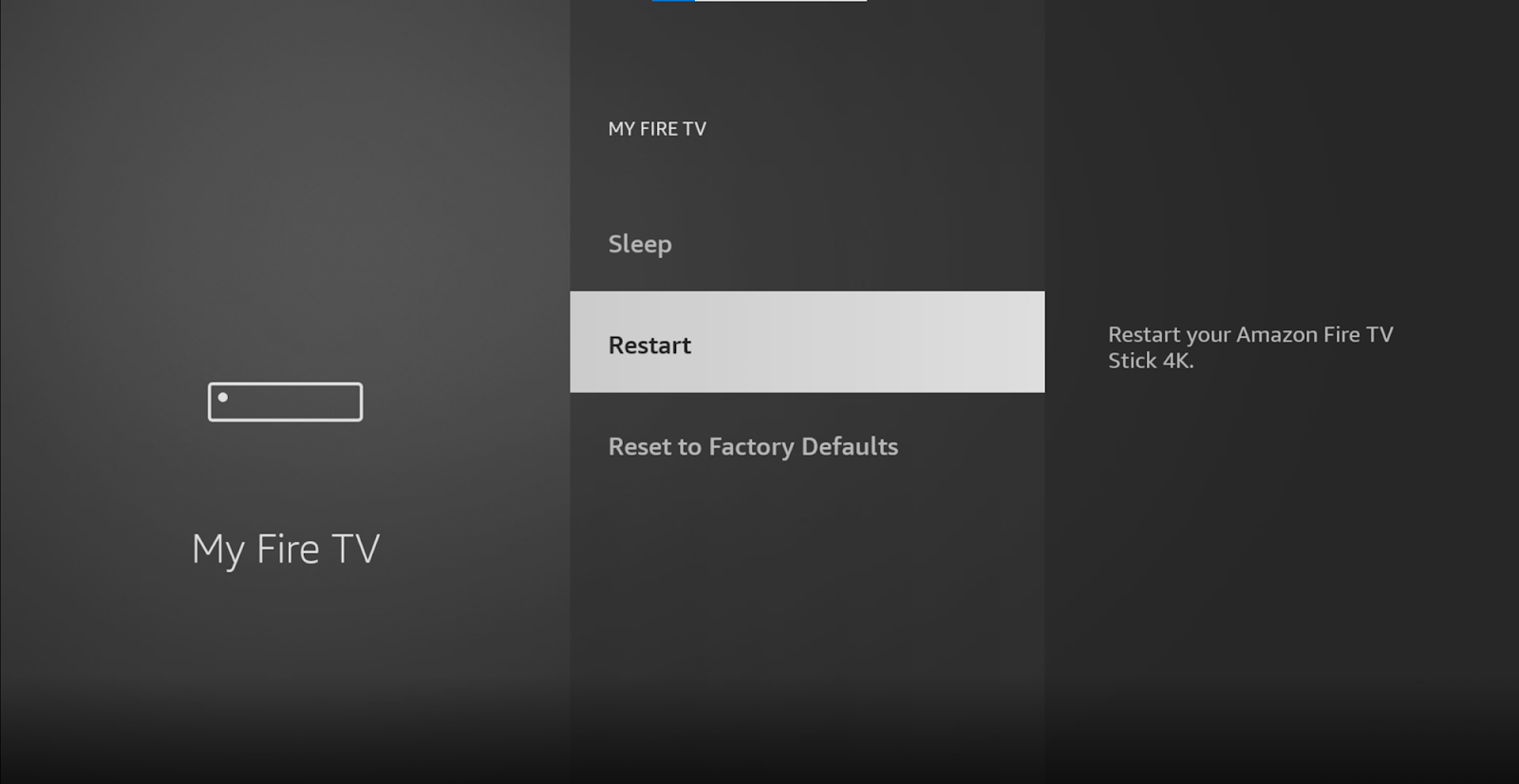 Once you're asked to confirm if you want to restart, select "Restart"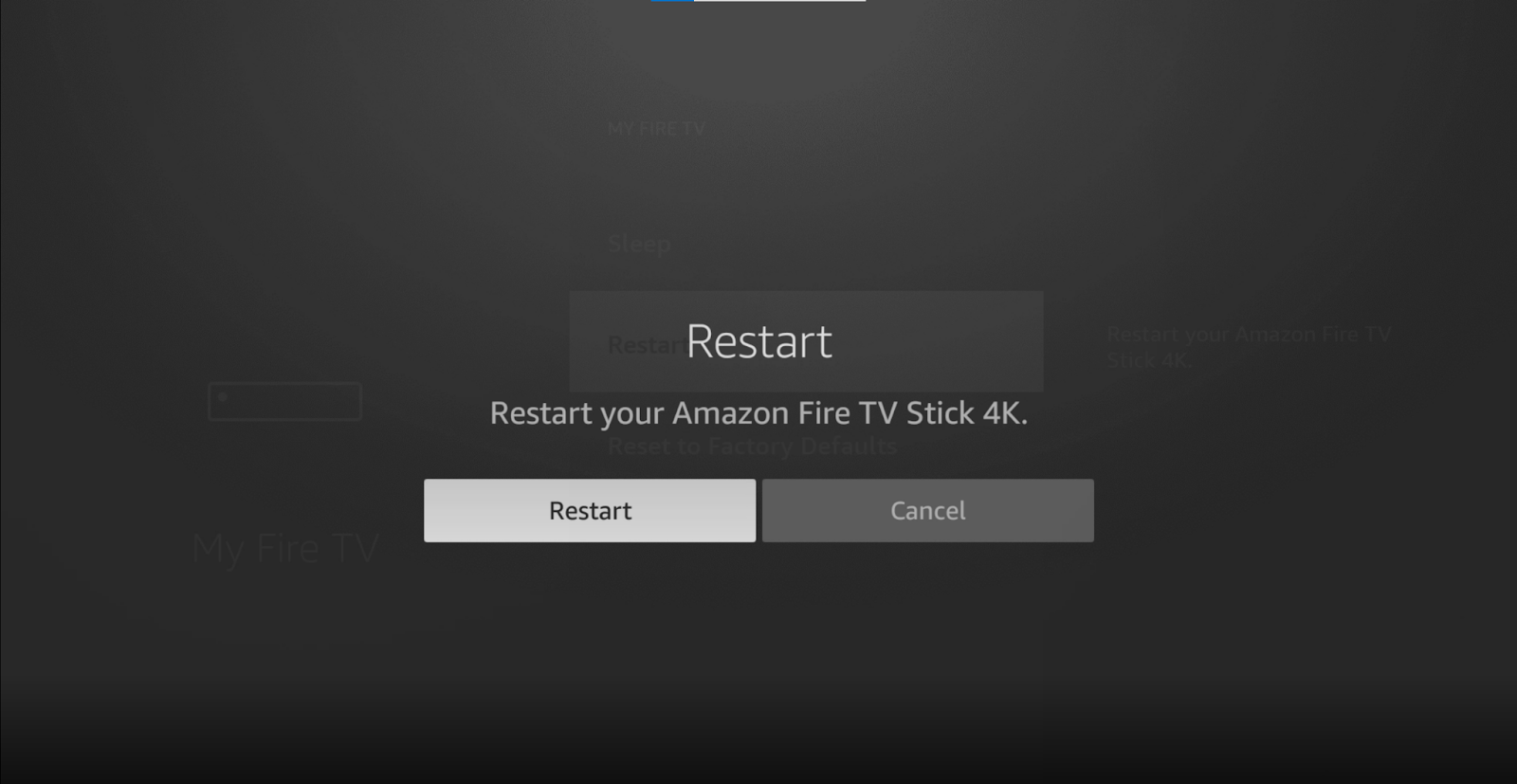 This might take a little while. Once the process has been completed, test your TV and Firestick. In most cases, this should take care of the issue.
But even if it doesn't, don't worry! We still have a lot of ground to cover. Keep reading to discover more fixes you can try.
#4 Update Your Firestick
Keeping their streaming devices updated is not on most people's list of priorities, but it should be.
You see, with every new release, app developers try their best to install as many features and solve as many bugs as possible. Moreover, newer versions of TV software are designed with the latest versions of streaming devices in mind.
Using an outdated version of your Firestick's software with a fully updated TV could explain why the device keeps unpairing or forgetting it. And to make matters worse, that's just the tip of the iceberg. Keeping your Firestick outdated can also cause it to keep flashing on your TV, along with several other issues.
Now, this should normally not be your concern, as there's automatic updating. But sometimes, a weak internet connection or a glitch can get in the way.
In such a case, you'll have to manually download and install the latest version of your Firestick.
Solution: Here are some simple steps to guide you through this:
Press the "Home" button on your controller
Navigate to the gear icon to open the device's settings
On the set of options that appear, select "My Fire TV"
On the new menu, select "About"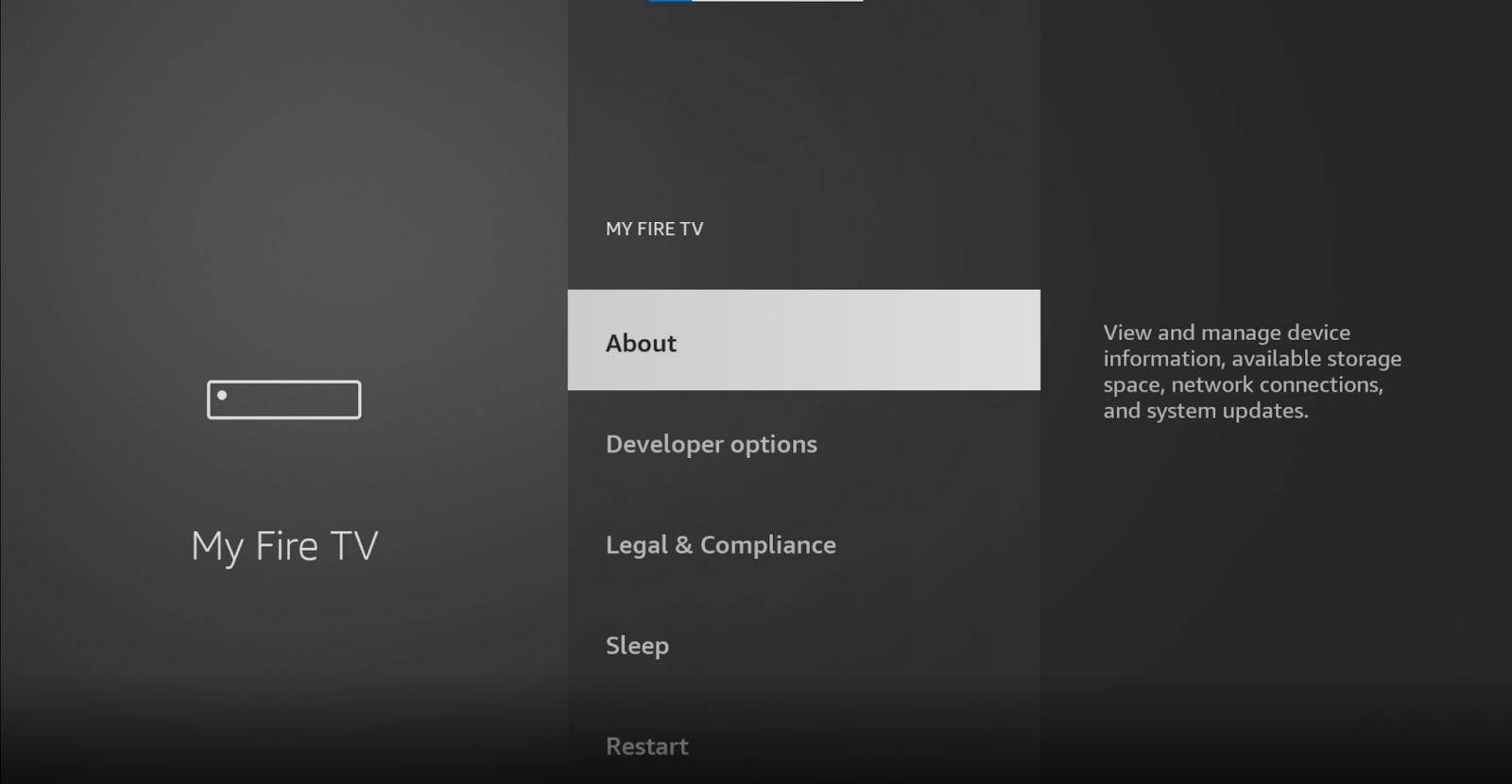 Select "Check for Updates". You'll get a message that says "Checking Now…"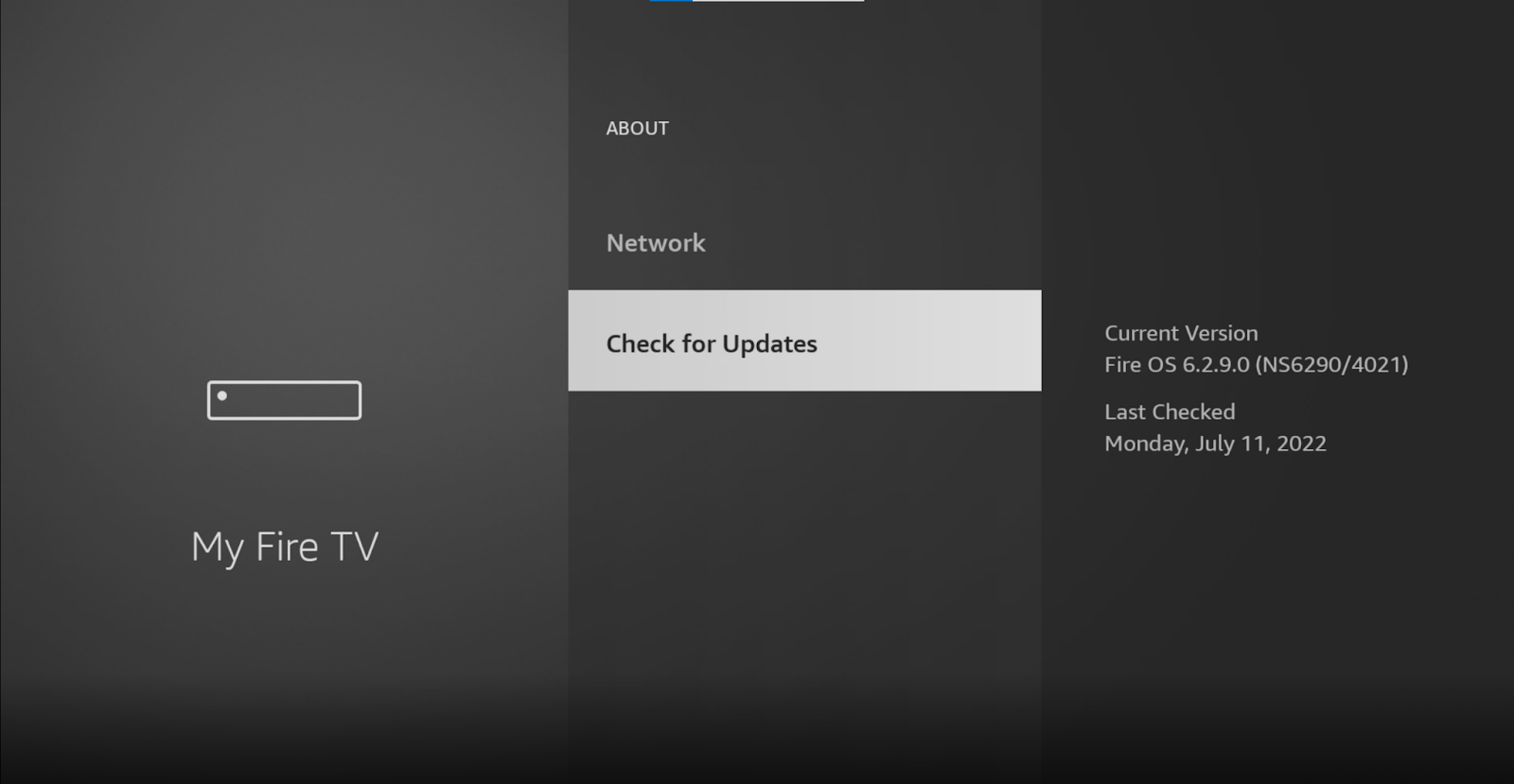 After your Fire Stick is done checking for updates, you'll either get an option to install a newer version or get a message that says "Your Fire TV is up to date."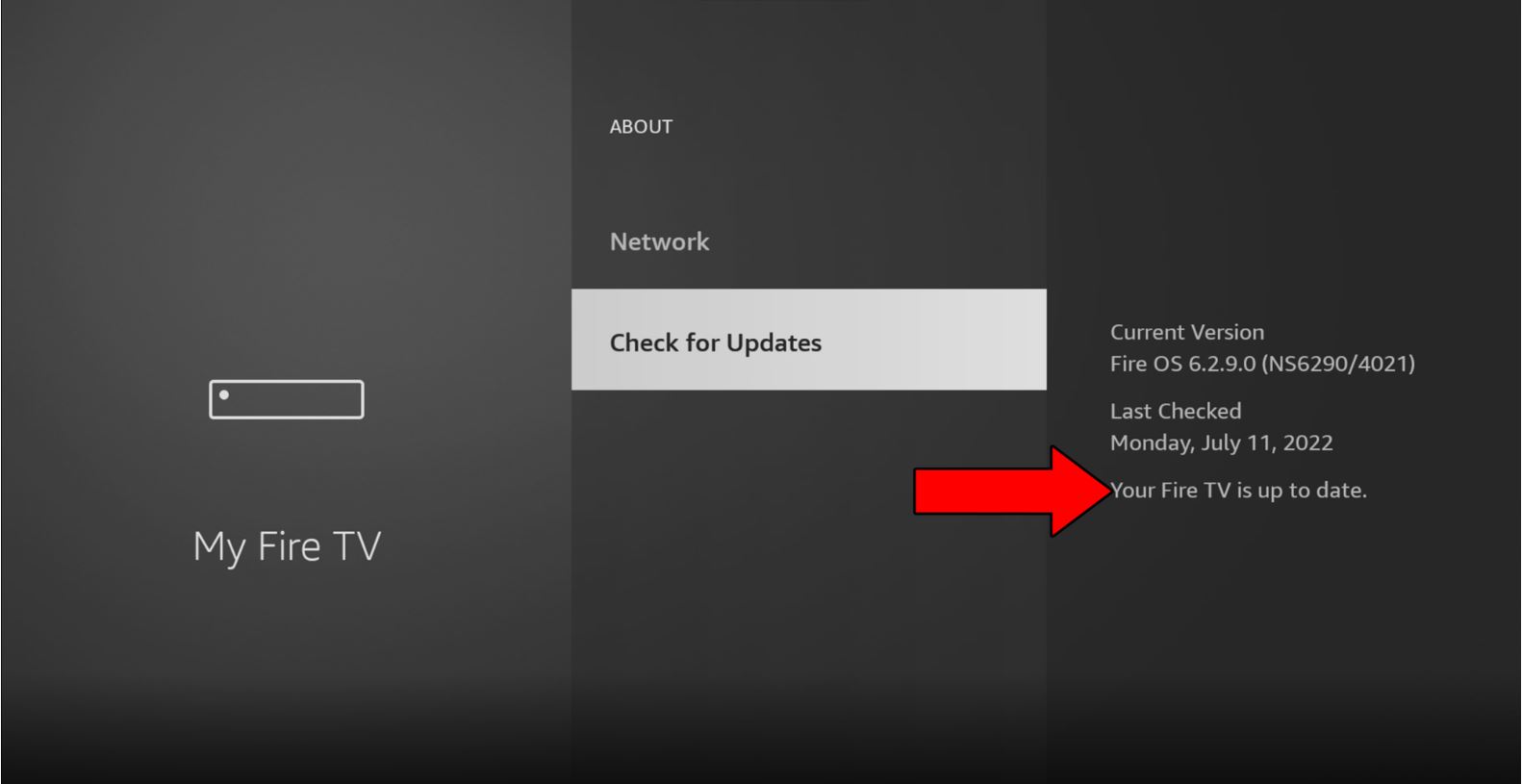 #5 Update Your TV's Software
Although keeping your Firestick fully updated will greatly improve your situation, it will only be effective if your TV is also running on its latest software version.
Not unlike your streaming device, your TV should check for updates and install them automatically. But if this doesn't happen, you'll have to interfere again.
Solution: There are hundreds of different TVs out there, so the process of updating each one can vary a little. I'd recommend going to Google and searching for "How to update my <Your TV's Make And Model Go Here>". You should be able to find several detailed instructions to follow.
#6 Reset Your Firestick
Finally, let's try resetting your Firestick.
If nothing has worked so far, we might need to start being a little more aggressive. By resetting your device, you'll be reverting it to brand-new condition. This process will delete all your downloaded apps, user preferences, and favorite settings.
I know this is far from ideal, but sometimes bugs, glitches, and corrupted files are too stubborn and this is the only way to get rid of them.
Chances are this isn't the last time you'll ever have to Factory Reset your Firestick, so here's a useful tip for the future. Keep a list of all your downloaded apps and their respective login credentials written down somewhere.
This will save you the trouble of having to remember what to re-download after you're done.
Solution: If you're 100% sure that there's nothing else you can try, here's how you can go about this:
Press the "Home" button on your controller
Navigate to the gear icon to open the device's settings
On the set of options that appear, select "My Fire TV"
Scroll down in the new menu and select "Reset to Factory Defaults"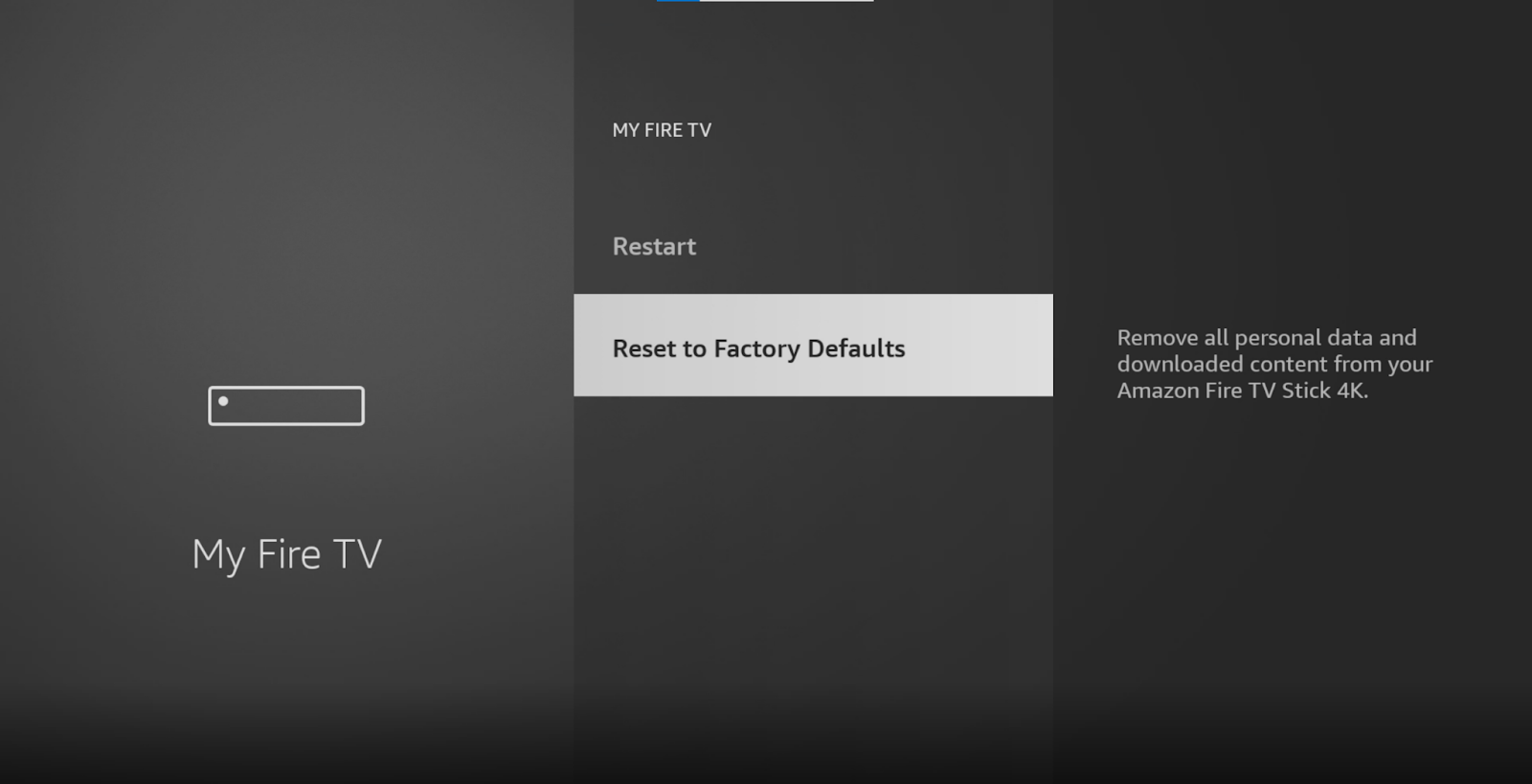 When asked to confirm, select "Reset" and wait for the process to be completed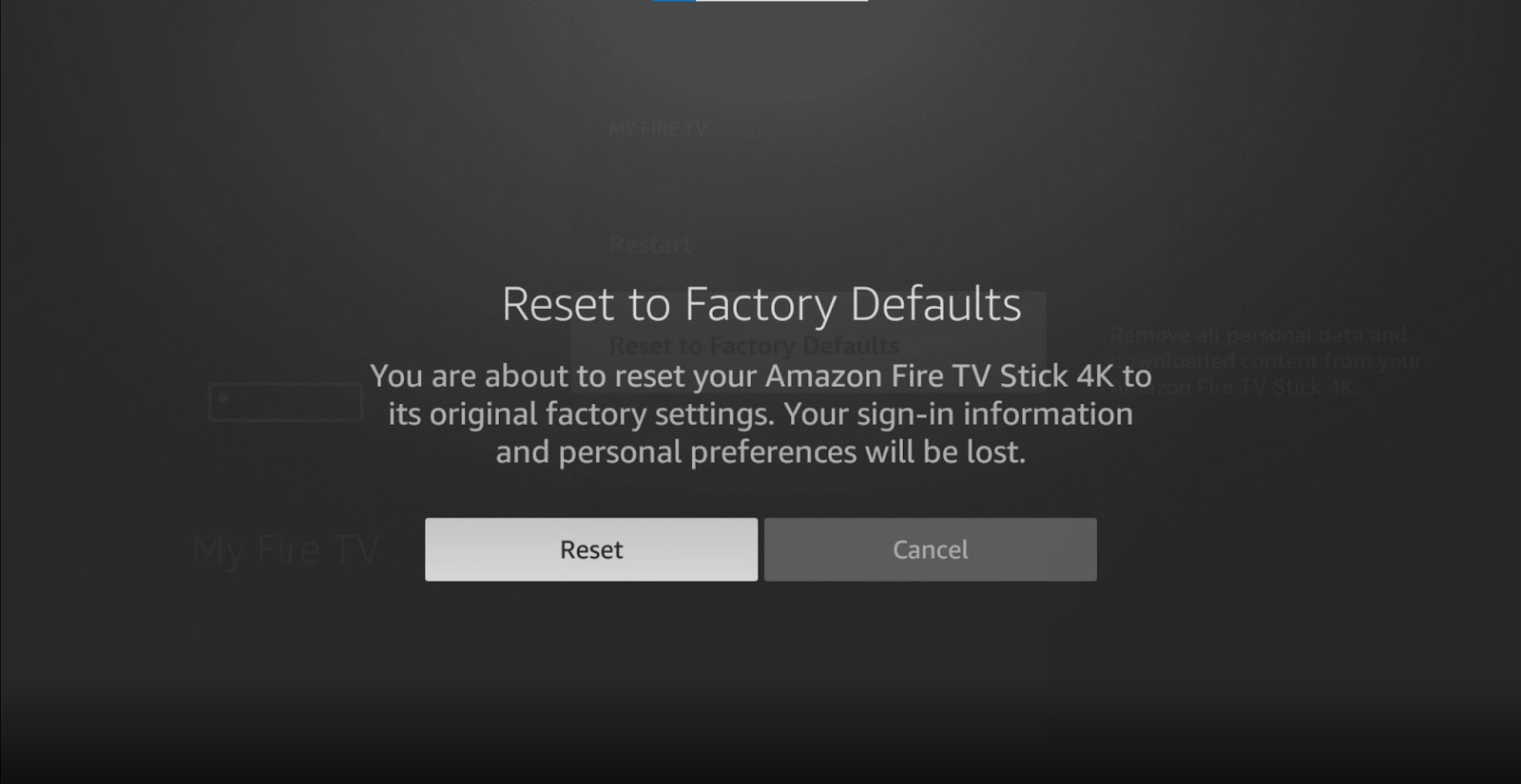 Once that's done, you can start re-downloading your apps and entering your preferred settings. 
Conclusion
Having your Firestick keep unpairing or forgetting your TV can be very annoying. Especially considering that the last thing you want to do after a long day at work is play technician.
Luckily, as I hope you've learned in this piece, addressing most of the causes behind this is very easy. More often than not, keeping your Firestick and TV fully updated, and making sure that your favorite HDMI port is not damaged, should do the trick.
Thank you so much for sticking with me all the way to the end. If you found this article helpful, you'll be glad to know that we upload new content weekly. Check out our other wonderful resources below to become a Tech Detective yourself!
Best of luck to you.