Are you desperately wondering whether your Firestick can spy on you?
You're not alone! Every day, thousands of people find themselves in the same situation and are left with no answers.
I know how concerning it can be not to know if your favorite streaming devices are tracking your every move. Especially considering that your home should be a private, safe space.
But don't worry, you've come to the right place. Below, you'll find some useful information that will clarify whether a Firestick can spy on you and how you can solve the problem if it can.
The 2 main measures you can implement to recover your privacy are:
Keep reading to stop being monitored!
Just to Be Clear…
First, I want to answer your most burning question. Yes, your Firestick can track your streaming and search activity. But don't panic, there's a limit to how deep this can go.
A lot of people seem to be concerned that their streaming device has a microphone and a tiny broadcasting system inside it.
Let me assure you, that this is not the case.
All Amazon does is collect your streaming habits to improve its algorithms and suggest products/shows you might like.
And while some people will be ok with that, I perfectly understand if you're not. Let's check out some ways in which you can protect your privacy.
#1 Disable Device Usage Data & Data Monitoring
I want to start off by doing this, as it's free and easy.
When either of these features is enabled on your Firestick, you're giving Amazon permission to track your streaming habits and collect that information for their records.
Again, some people might not find this to be a violation of their privacy. And if you think about it, it might even be beneficial to get you the right suggestions online. But even in that case, it should always be your choice to use this feature or not.
Solution: In most cases, Device Usage Data is enabled from the get-go (which is unfair, if you ask me). The good news is that disabling it is really easy. Here's what you have to do:
Go to your Firestick Settings by selecting the gear icon on your Home Screen
2. From the Settings options, select "Preferences"
3. From the new menu, select "Privacy Settings"
4. You'll likely see Device Usage Data is turned on. Select it and then confirm when asked if you're sure you want to turn it off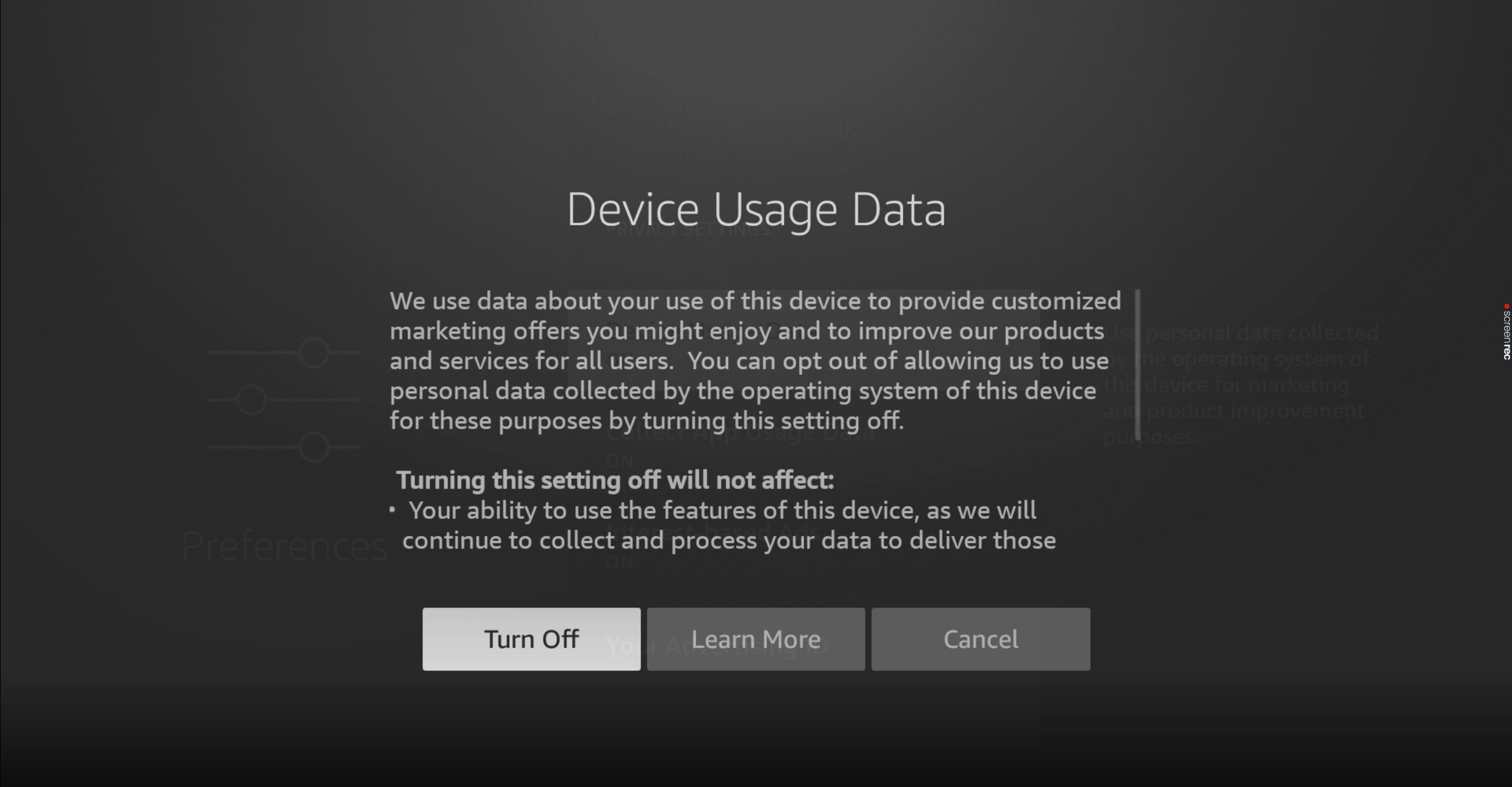 Once you have done that, let's move on to disabling Data Monitoring.
From the Device Usage Data menu, press the "Back" button on your controller (the little curved arrow). Then, select "Data Monitoring"
2. On the new menu, check that it says "OFF" below "Data Monitoring". If this is not the case, just hover above the option, select it, and confirm you want to disable it
#2 Get a Premium VPN
Once you've disabled all of your Firestick's tracking features, let's take an extra step towards privacy protection.
Although your device is no longer monitoring you, it's always a good idea to cover your tracks. Especially considering that, if you use third-party apps like Cinema HD, other people can track your activity. In order to do this, I recommend getting a premium subscription with a VPN provider you like.
Don't know what a VPN is? Don't worry, I'm happy to explain it to you.
VPNs, or "Virtual Private Networks" are programs that hide your IP address and let you browse the web privately. All this while also allowing you to access streaming content from other countries!
By using one of these, no one can track your activity or know your location. You're browsing 100% incognito.
Solution: There are hundreds of different VPN companies out there, each with several features to try. I suggest choosing one to regain your privacy and prevent issues, like Error 7136 on your favorite streaming platforms.
Most of the greatest options out there go for as low as $60/year!
Conclusion
Streaming should be a stress-free activity. But when you can't stop wondering whether your Firestick is spying on your every move, the whole thing can feel quite the opposite.
Luckily, as I hope you've learned in this piece, there are limits to what Amazon can monitor about your activities, and you can always disable tracking features. In most cases, using a good VPN to cover your tracks, and turning off Device Usage Data & Data Monitoring, should allow you to get your privacy back.
Thank you so much for sticking with me all the way to the end. If you found this article helpful, you'll be happy to know that we upload new content weekly. Check out our other incredible resources below to become a Tech Detective yourself!
I wish you nothing but the best.