Are you stuck trying to get HBO Max working on Chrome?
You're not alone. In fact, plenty of users have experienced problems with the platform, and the reports keep coming in. I understand how frustrating this must be, as streaming your favorite shows should not be this complicated.
Luckily, we're here to help!
In this article, you'll find the 5 most common causes of this issue and the simplest steps you can take to address them. I'm certain that, if you follow them to a tee, Chrome and HBO Max will be working seamlessly together in no time.
The steps we'll be following are:
Check your internet connection
Check HBO Max's servers
Restart your PC
Update your browser
Delete your cookies
Now, enough talking. Read on to get back to streaming your favorite content!
#1 Check Your Internet Connection
Let's start off with the obvious.
I know you're probably thinking there's just no way you could have missed considering this. But remember, it's usually the most apparently unimportant things, that we tend to overlook more often.
If no matter what you do, HBO Max won't load or switch between shows, there's a good chance you might have bad signal quality.
While service interruptions have decreased dramatically over the last decade, they have not been eradicated completely. A fact I'm sure you've come to learn over the years.
The trickiest part about this issue is diagnosing the source of the problem, as the solutions may vary depending on this.
Solution: Before doing anything else, I'd advise calling your internet provider to make sure they're not having problems in your area. If they tell you nothing's wrong on their end, you'll likely have to reset your modem.
Here's how you can go about that:
Without unplugging the modem, turn it around, so you can see the back of the unit
Locate the reset button (more often than not, it's not really a button, but a small hole with a "Reset" label on it)
Use a paper clip or a thin toothpick to press down on the actual button inside this hole, and hold it down until all the lights at the front of the unit turn on, and then turn off
For a brief moment, all lights on the modem will be off, that's your cue to stop holding down the reset button
Wait about 5 minutes or so and try browsing the internet. If all went well, you should now be able to stream HBO Max on Chrome without any major inconveniences.
#2 Check HBO Max's Servers
Assuming your connection is fine, we can safely move on to looking a the platform's servers.
These are essential for storing data, and, as their name suggests, servicing the millions of subscribers that simultaneously stream several shows.
You'd think that with the billions of dollars giant streaming companies such as Netflix, Amazon Prime, and HBO Max invest in technology every year, their servers would be bulletproof, right?
Well… not quite. Far from it, really.
Although they're built to last, servers can fail due to a bug in their programming, a malfunctioning hard drive, or even hacking. And, as you can imagine, any of these scenarios can prove disastrous for the platform's service.
So, before blaming everything on Chrome, make sure the service is not experiencing server downtime.
Solution: A couple of decades ago, it would have been impossible to check the status of your favorite platform's servers. But luckily, these days this information is one Google search away.
Here's what you need to do:
Open Google, and type "Is HBO Max Down?", then hit Enter to search your query
Locate "Downdetector" on the search results, and click on it (or simply click on this link: https://downdetector.com/status/hbo-max)
Once you've entered the webpage, you'll see a bunch of data, and a large graph
The higher the spikes, the more likely you are to be experiencing issues
Sadly, if the servers are, in fact, down, your hands are pretty much tied. However, to our knowledge, there's never been an instance where the service wasn't fully restored within 24 hours.
If the day allows for it, you could take a nice walk outside while you wait!
#3 Restart Your PC
Having ruled out all potential external culprits, it's time to consider that the issue might be originating on your end.
And maybe all you need to do is restart your PC.
You see, your computer performs all sorts of background processes while you're using it. You might not be aware that they're happening, but they are.
On some rare occasions, some of them can interfere with the way Chrome works and gets along with certain webpages, and even your internet connection, causing a lot of problems.
Unless your computer is infected with a virus or you're having some major operating system issues, these interferences can be quickly addressed by restarting your machine.
Solution: In case you've never done this, here are the steps to follow:
For Windows 10:
Save anything important you're working on (Word Documents, Excel Sheets, PowerPoint Presentations, etc.)
Click on the "Start" button on your Windows toolbar (mine's on the right corner of the screen, but yours should be at the bottom)
Click on the "On/Off" symbol at the corner of the dropdown menu
Select "Restart"
Wait for the process to be completed, relog into your personal account, and try streaming HBO Max on Chrome
For Mac:
Save any important documents you're working on
Select the Apple Menu (located at the top-left corner of your screen)
From the dropdown menu, select "Restart"
Wait for the process to be completed
Log into your account, open HBO Max on Chrome and try streaming
Restarting your computer often will not only help you resolve this problem, but also keep your machine updated, which is also essential to prevent issues like this from occurring in the future.
#4 Update Your Browser
Keeping your browser updated is crucial.
Although programmers try to keep as much backward compatibility as they can, it's not always entirely possible. This means that if you're using an older Chrome version to browse the web and access HBO Max, you might have trouble streaming.
Now, browser updates are normally installed in the background and rarely ever bother you. Sometimes, upon launching you'll get a notification saying the browser needs to be updated, but other than that, it's normally pretty simple.
However, a background process crash, an internet connection interruption, or any other obstacle the installation encounters, can leave it stuck in Limbo.
Solution: Here's how you can manually update Google Chrome:
Open the browser
Click on the three vertical dots in the upper-right corner of the screen
Select "Help" from the dropdown menu
Select "About Google Chrome"
A new window will open
If your browser is outdated, an automatic updating process will begin
Once it has been completed, you'll be asked to relaunch the browser (I'm not being asked because my browser's already updated to the latest version)
Click on the Relaunch button
Frequently double-checking that your browser is updated is a good practice that will keep your user experience smooth at all times. Please refer to Chrome's support website to find the process for your specific device.
#5 Delete Your Cookies
Lastly, let's talk about your cookies.
Unless you're a programmer or marketing agent, there's really no reason why you should be familiarized with these. However, now that you're here, I'd like to tell you a little about them.
Cookies are tools used by developers to collect information about your browsing habits and make your experience more enjoyable.
Have you ever been suddenly bombarded on social media by convection oven ads right after looking up the recipe for the perfect Apple Strüdel? Well… you have cookies to thank for that.
Now, cookies are not all bad. They can certainly help make your browsing easier and remember a lot of your information. However, they can also interfere with the way Chrome works with HBO Max.
If nothing else has worked, deleting your cookies should.
Solution: Here's how you can go about this:
Open Google Chrome
Click the Menu button (the three dots in the upper right corner of the screen) > Select "More Tools" > Choose "Clear browsing data"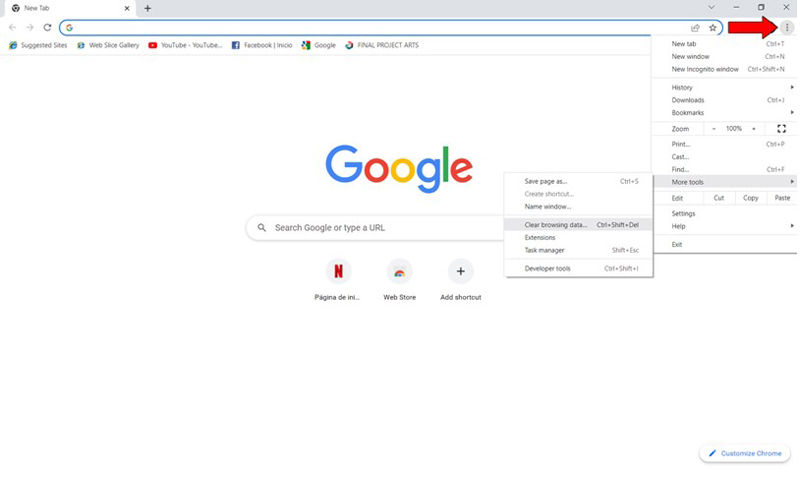 Select "All time" when prompted with a window asking the time range you want to delete data for.
Make sure "Cookies and other site data" is ticked.
You'll have to do this now and then to prevent issues, since, just like checking on available browser updates, deleting your cookies is a good practice.
Conclusion
Getting used to a browser that meets all your needs is great. At least up until the point where you start having issues streaming your favorite shows on it. Then, it can become annoying very quickly.
Luckily, as I hope you've learned in this piece, addressing most of the causes behind this situation is fairly simple and not very time-consuming. More often than not, making sure that you have the latest browser version installed and deleting your cookies frequently will do the trick.
Thank you so much for sticking with me all the way to the end. If you found this article helpful, you'll be glad to know that we upload new content weekly. Stay tuned and become a Tech Detective yourself!
I wish you all the best.