Are you having trouble with Apple Music skipping songs?
Apple Music is a great streaming service that offers millions of songs; but, just like any other platform, it can have performance problems.
I know, there's nothing more frustrating than feeling inspired by your favorite playlist and then be suddenly interrupted because Apple Music keeps skipping your songs.
This is a problem that a lot of users experience, but don't worry, it can be easily fixed, you'll be listening to your favorite tracks again in no time.
These are my 8 tips to stop your Apple Music from skipping songs:
Keep reading to fix the problem and sing along to your favorite playlists!
#1 Fully Close Apple Music
As simple as it seems, sometimes an app that isn't working at its best just needs to be fully closed and re-opened. To fully close Apple Music on your phone, follow these steps:
For iPhone X and later:
Go to the Home Screen, then swipe up from the bottom of the screen and pause in the middle of the screen. This will show the apps you currently have open in the background.
Swipe up on Apple Music to close it.
For iPhone SE, 8, and earlier:
Double-click the home button to see the apps you have running in the background.
Swipe up on Apple Music.
For Android:
Swipe up from the bottom of your screen, hold until you see your background apps, and then release.
Swipe up on Apple Music.
If this didn't do the trick, don't worry. The following tips should.
#2 Sync Your Playlists
If a few tracks on a playlist don't sync successfully to your iCloud account, your Apple Music may keep skipping the songs. To re-sync your playlist on your iOS devices, you'll just need to:
Click on the Settings gear icon.
Go to "Music"
Turn on the "Sync Library" option.
I recommend having the "Sync Library" button always on, this way you can access your music library without interruptions.
#3 Clear Your App's Cache
Think of the cache as your devices' scrapbook. This is where an app or browser stores essential information.
Apple Music, for example, stores lyrics, images, fonts, videos and other types of content in there. The cache helps your app run faster because you'll avoid re-downloading tons of information every time you enter Apple Music or any other app.
Now, if cached data makes your browsing experience faster, why should clearing it frequently be a good idea?
Simple. Because it can help get rid of corrupted files.
Sometimes, when an app stores information in the cache, certain elements can become damaged, resulting in glitches and other performance issues. When you clear your cache, these get a chance to restart from scratch unaffected.
Clear your Apple Music cache with these simple steps:
For iPhone, iPad, or iPod:
Click on the Settings gear icon
Go to "Music"
Toggle off "Sync Library"
Wait a couple of minutes and then turn "Sync Library" on again.
For Android devices:
Go to Settings
Click on "Apps"
Choose "Installed applications"
Find Apple Music
Look for the "Storage" tab
Press "Clear app cache"
Apple recently launched Apple Music Web that allows users to listen to music in their PC's browser without the need to download the iTunes app. If you're using Apple Music Web, you can clear your browser's cache in 5 simple steps:
Go to Google Chrome and at the top right, click "More" (3 dots icon)
Go to "More tools" and select "Clear browsing data"
At the top, select "Time range", then "All time"
Tick all boxes.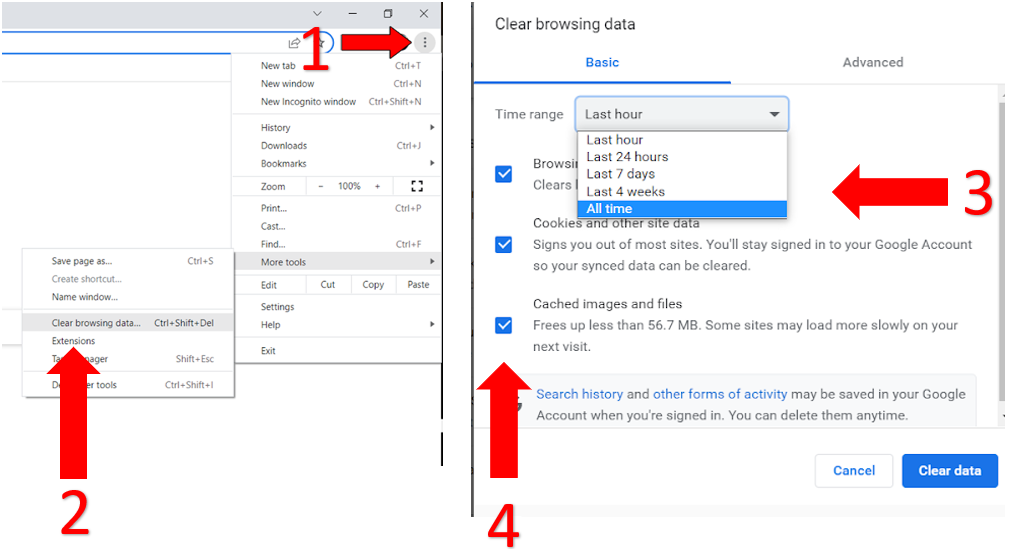 #4 Update Your Device
Like any other app out there, Apple Music often releases new features, and these are included in iOS updates. Updating your device might stop Apple Music from skipping your songs.
To check if there are any available iOS updates:
Press the Settings gear icon.
Go to "General"
Click "Software Update" to know if there are any updates you might have missed.
Do you have an Android device? Great! Updating Apple Music in Google Play won't take more than 3 minutes! You'll just have to:
Open Google Play Store.
Click on the profile icon located at the top right of your screen.
Tap on "Manage apps & device"
Tap on "Manage", then search for Apple Music.
Choose "Update"
#5 Restart Your Device
Some people say that having a smartphone feels like a superpower, and I agree! Nowadays, phones offer thousands of options to help make our lives easier. We can browse freely, listen to music, and even go grocery shopping.
However, one thing a lot of people are not familiar with, is restarting their phones. If you're one of them, you might want to learn how.
Giving your device a quick reset can help fix glitches and unload your RAM memory.
To restart your iPhone X, 11, 12, or 13:
Press and hold either volume button and the side button until the power-off slider pops up.
Drag the slider and wait 30 seconds to turn off your device.
Press and hold the right-hand side button of your iPhone to turn your device back on.
For iPhone SE, 8, 7 or 6:
Press and hold the right-hand side button until the power-off slider appears.
Drag the slider, then wait 30 seconds to turn off your device.
Press the side button again until you see the Apple logo to turn your device back on.
For Android phones:
Press and hold the power button for 5-10 seconds.
Select "Restart" to turn off your device.
If you don't see the "Restart" option, tap "Power off". Once your device is off, press the power button to turn it on again.
#6 Check if Apple's Servers Are Down
If the fixes above didn't do the trick, the problem might not be on your end! Although it doesn't happen very often, sometimes Apple's servers may fail, and there is no shortage of reasons.
Luckily, Apple has a webpage that tells you if their servers are having trouble.
Sadly, if the website shows that Apple Music is down, the only thing you can do is wait until the problem is resolved.
But don't worry, these issues never last long.
#7 Re-Download the Faulty Songs
Although it's rare to encounter corrupted songs, sometimes these may be the cause of Apple Music skipping your songs.
Songs may get corrupted due to several reasons. Luckily, solving this won't take more than 5 minutes.
You'll just need to delete the songs in Apple Music that usually skip after playing for a while.
Follow these steps to fix it:
Go to Apple Music.
Go to your music library and search for the corrupted songs, then click the 3 dot icon.
Tap on "Delete from library"
You can download them again by following these steps:
Go to Apple Music
Tap on the search icon located at the bottom of your screen.
Search for the song you recently deleted.
Tap on the 3 dots icon.
Select "Add to Library"
#8 Check Your Bluetooth Devices
If you're like me and love listening to your favorite music on Bluetooth devices like earphones or speakers, you might want to take into consideration the area of coverage.
Normally, the coverage range of a Bluetooth connection is 33 feet (10 meters). If you're further away from your phone while cooking, working out, or doing something else… you might want to get closer until you're within range.
If you're constantly in and out of the Bluetooth range, Apple Music will pair and unpair with your devices intermittently. This, in turn, may cause the app to keep skipping over the current song you're trying to play.
Conclusion
Needing some me-time with your favorite songs, only to find that Apple Music has other plans, can be frustrating.
Hopefully, now that we've covered everything, you'll be able to enjoy your playlists uninterrupted.
Remember to check if your songs are synced to iCloud, make sure your phone has the latest updates installed, and, if you're using any Bluetooth devices, do your best to stay within range!
Thanks for taking the time to read this article! Here at Tech Detective, we love coming up with solutions to everyday problems. If you found this information helpful, make sure to read our other articles below.
Enjoy your jam sessions!